We are Paul & Jilly a husband and wife team, passionate about sharing our love of the great outdoors and Camper van adventures with the rest of the world.
We are based in Ashbourne in Derbyshire, considered to be the Gateway to the Peak District.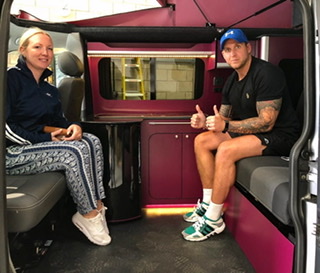 We have 3 small dogs who love to join us on our Camping adventures so naturally we are super dog friendly.
We welcome your furry friends in most of our vehicles.
Being avid campers and explorers we started the company in January 2018, starting humbly with one Campervan "Hollywood" which soon took off.
Hollywoods bookings came in thick and fast and sadly we were turning away many customers as we were simply booked full to the rafters.
We absolutely hated dissapointing our customers so chose to expand and have never looked back. We are now in our Fourth year and have 4 Luxury Camper Vans available for hire. We are so thankful for our customers old and new and are very proud of our current 180 five* reviews.
We think we can offer something truely special, as each of our Camper vans are different and unique. We cater for every occassion, whether its a solo adventure, family affair, romanitic weekend away or office team building trip….the list is endless.
We are centrally located in Derbyshire, making us easily accessible no matter where you are based.
We are also lucky enough to have the beautiful Peak District National Park on our doorstep and have easy access to many major routes and roads.
We allow European travel in all our campers
If you are looking for a luxury, affordable and friendly experience please get in touch where we promise to go the extra mile to make your trip unforgettable.
---
looking for ideas of beautiful places to take the campers and for things to do whilst visiting the Peak District ? check out this fabulous page https://letsgopeakdistrict.co.uk/